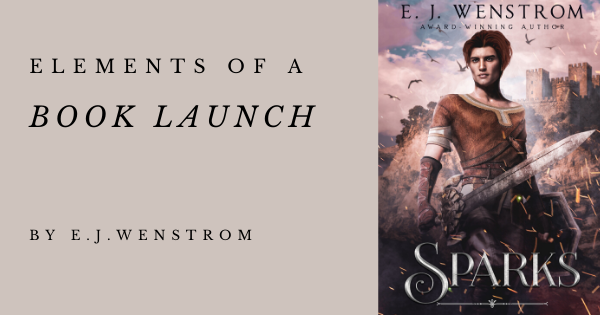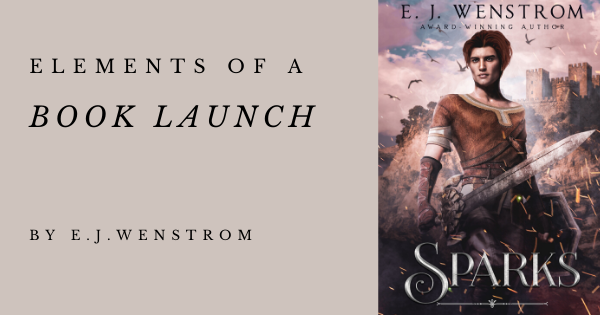 by E.J. Wenstrom,  @EJWenstrom
Many times, talk about book launches as an event—you find a venue, do a short reading, sign some books, drink some wine, and boom, your book has been launched. Perhaps due to my  day job in PR and marketing, but I've always thought of a launch as more of a campaign. It's not just an event (though you can certainly do one if you like–it's a weeks-long series of promotion focused around a newsworthy moment.
The goal of a public relations campaign is not just to make sales (though you definitely want these). It's also to raise awareness–help make more readers in your niche aware of who you are. Every book launch is a layer in an overall strategy to keep your readership growing.
Thus, like most campaigns, a book launch isn't so much about any particular tactic, like a launch party. It's more about the synergy between your accumulated efforts.
Book launches are an important occasion for an author! It's a moment to pause and celebrate your accomplishment, and share it with readers for the first time. But also, it's a moment of impetus in your efforts to build your readership.
I'm currently in the midst of my own book launch moment—and as it's the final novel in my fantasy series, it's a biggie! So naturally, I set out to make as much of the opportunity as I could.
When I prepare for a book launch, it's a cluster of collected tactics, which I organize into six categories of effort.
The Buildup
The Buildup is what you do in the week or two leading up to the release, with the intent of getting readers excited and building buzz.
This is super important! When your book finally releases, you want them chomping at the bit to get their hands on it.
The Buildup can include:
Executing a cover reveal
Sending ARCs to your advance readers
Requesting professional reviews from bloggers and publications
Sharing behind-the-scenes insights from your writing process for the book
Dropping hints about the characters or plot
Some of these activities may overlap and run through the next phase, Promotion, but plan ahead so these start releasing a week or two before the release.
The Promotion
This refers specifically to the time-sensitive offer that will inspire your readers to act now, during the launch period.
Without a time-sensitive incentive during the launch campaign, your new release might simply get added to your readers' Goodreads TBR list, and then sit there for years until readers get to it.
It's understandable, but it's not ideal.
You don't just want interest in your book. You want sales. You want your Amazon ranking to skyrocket.
Often, this means you are giving your book a special reduced sale price for a week or two during launch. Or, you could give away special swag incentives, like a pin or map of the world, if they purchase within a specific launch time frame. Or, maybe it's both.
The Hustle
Once your book is released and the promotion is live, it's time for the Hustle. This means you've got to identify ways to reach beyond your existing readership and secure opportunities to get in front of new potential readers.
These opportunities might include:
Bookbub or other promotional book sales sites
Events  (signings, workshops, cons)
Guest posting for other blogs
Pitching the media in your region or niche
Scheduling targeted advertising online
More General Tips
No matter how you choose to approach your launch, here are a few more general tips to help frame how you approach it:
Coordinate with your publisher–Your publisher may be planning promotion efforts, too. It's always better to work together. Otherwise you risk repeat efforts or contradictory language.
Consider the time and budget you have available–Any platforming effort can be bottomless if you want it to be. Decide on where your limits are, and let those limits help determine your priorities and focus.
Be kind to yourself–A book launch should be fun. There's no need to run yourself ragged. Pace yourself, and try not to overcommit, or to put too much pressure on yourself.
Your Book Launch is Yours to Create
When it comes to book launches, there's as many ways to do it as there are authors. Consider this one author's framework. Even working within it, there are many possibilities.
Consider, what are you comfortable with? What do you want to try that you haven't before? How much time can you give to preparing for the launch? What is your definition for the launch's success? These should all play a role in how you plan your launch.
Above all, be careful of what measuring stick you use to plan and assess your book launch. This is yours, and you can do whatever you want to celebrate your latest achievement! The key is to think ahead about what that is, and how you can accomplish it, so that you're operating from a plan.
E. J. Wenstrom believes in complicated heroes, horrifying monsters, purple hair dye and standing to the right on escalators so the left side can walk. Her award-winning fantasy series Chronicles of the Third Realm War features a peculiar mashup of Greek mythology, Judeo-Christian folklore, and an extra dash of her own special brand of chaos. It starts with Royal Palm Literary Award Book of the Year Mud (#1), Tides (#2), and Sparks (#3), releasing in March 2020, as well as the prequel Rain (#0).
When she isn't writing fiction, E. J. Wenstrom is a regular contributor to DIY MFA and BookRiot, and co-hosts the Fantasy+Girl Podcast.
The Book Launch: 6 Categories of Effort (by @EJWenstrom ): Click To Tweet